Monday, November 16, 2009 Posted by Dina N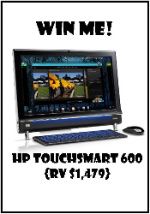 My bloggy friend Piera of
Jolly Mom
will be giving away a brand-new HP TouchSmart 600 computer at her blog! Wouldn't that make a fab Christmas present? Here is what it is:
Microsoft and HP collaborated to create best-in-class touch technology that melds the power of Windows 7 with HP's revolutionary TouchSmart PCs. The HP TouchSmart 600 showcases this technology within its sleek design, HD widescreen, BluRay, adjustable webcam and more. It offers limitless potential for enhancing life at home.

Sounds perfect! And it retails for close to $1,500 - it would make me so happy to replace my old PC with this baby, for free!
The fab event starts next Monday, November 23. See you there!