Wednesday, May 12, 2010 Posted by Dina N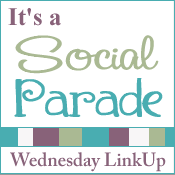 Here is a fun way to discover new blogs and make new friends in the blogosphere! It's a Social Parade - Wednesday Link-up is a weekly link-up hosted by
Smart Trendy Moms
. They created it for socializing and to get new followers, fans, subscribers, readers without feeling overwhelmed. A new link-up appears every week to focus on one of the ways you connect with people through your blog! They will rotate through gaining followers, fans, Networked blogs and more. Link-up and focus on one thing at a time.
This week is Google Friend Connect Round Up!!
Go to
Smart Trendy Moms
to link up!

Here is how to participate:
Follow the blog in the first spot via Google Friend Connect. They will follow all on the linky! All blogs participating must post about Social Parade and link to that on the linky.
Link-up your blog post for "It's a Social Parade" that you made on your blog (including the button).
Follow as many as you like commenting on their POST as you do so they can follow back!
If you do not make a post and link that up, it is unlikely that someone will search around for a post to comment on.
Many thanks to Janet from Grammy Janet's Place for introducing me to this fun parade.